How often do you bake? I used to bake all the time, but now it's when I can find the time.
I recently celebrated my birthday, for which I usually get a cake ordered in. This time, I fancied something different, so I decided to bake my own birthday cake.
Pistachio is one of my favourite flavours, it is such a versatile and mighty delicious ingredient. When I was growing up, I fell in love with those giant bags of salted, roasted pistachios – they have to be salted – one gets from an Indian supermarket. 
Fast forward to present day and my love for pistachios has only grown stronger. Yes I am even more nuttier for the most scrumptious nut that ever existed on this planet.
I saw somewhere on Instagram, someone had made pistachio tiramisu, and I couldn't get that out of my head. I had never contemplated a pistachio flavoured sponge before.
I had cooked with pistachio as an ingredient, liberally sprinkling handfuls onto baklava, or as a garnish, because the emerald green crumbles look so pretty on a neutral canvas. Unable to dispel the small but mighty pistachio, I had to use it in my birthday cake.
I was wondering how I would incorporate pistachio flavour into the sponge. I was considering using ground up pistachio in the flour and mixed in with the cake batter.
I even contemplated dropping a liberal splodge of pistachio flavoured syrup – yes this exists for coffee, more on this later in a standalone post – when I made a pleasant discovery. I came across a jar of pistachio paste in my cupboard, so I added a dollop of this in the batter, and in the whipped cream frosting.
The recipe was a simple six egg batter where I weighed the eggs and replicated the amount for self-raising flour, baking spread and caster sugar. I am experimenting with coconut sugar which has caramel, butterscotch notes, and which really complements the unique pistachio flavour, so I swapped out 50g of regular caster sugar for coconut sugar.
I also swapped out 75g of regular self-raising flour with wholemeal self-raising flour. The reason for this, is because I am trying to create healthier bakes.
I found using 100% wholemeal self-raising flour yielded a more dense sponge, which tasted great, but was a more tightly packed crumb, hence me deciding to use a smaller amount.
A secret ingredient in the sponge is Whittard's white hot chocolate powder. I added a tablespoon to the batter, which gave the sponge an elegant flavour, just a whisper of white chocolate, in the background. 
I used the all-in-one method where I chucked everything in my KitchenAid, beat the living heck out of it, poured into three lined tins and baked.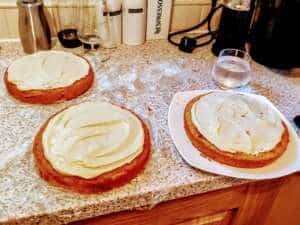 I also had a busy week – birthday week is always so busy – so this simple recipe meant it wasn't too taxing on the brain and I could just switch off and enjoy baking. I baked off the sponges the day before and wrapped them in clingfilm within 10 minutes of those beautiful babies leaving the oven, in order to preserve maximum moisture to render a tender crumb.
This means that the following day, on the day of my actual birthday, all I had to do was lightly whip double cream with a heaped dessert spoon of icing sugar and add a generous dollop of pistachio paste. My KitchenAid was doing all the hard work, this is my favourite piece of kitchen tech and I honestly don't know what I'd do without it.
It didn't take me long to top and fill the cake, and there it was, the finished product, a tasty as heck pistachio cream cake. A top tip, is to bake the sponges the day before, as assembling is quick and you can then go about the rest of your day without endlessly waiting for sponges to cool.
I had intended to cut each sponge in two, so to have a total of six layers and fill each one with the dreamy pistachio cream. But then I got too busy and because we were heading out for a treat day in Nottingham, we literally had coffee and pistachio cake for birthday breakfast then disappeared into Nottingham for a day of sushi and shopping. 
Ingredients I used in this cake are:
Pisti spreadable pistachio paste (I got mine from Costco last year but I can't see it online now)
The egg weighing recipe is the most simplest and my go-to for any Victoria sponge. If you try it, do let me know how you get on.