Have you made any new year's resolutions? If one of them is to eat more good food, then read on.
It was on a wintry afternoon that I made my way into Nottingham for my last review of the year – location, Cock & Hoop pub, High Pavement.
I'll be honest. It's not an area I usually visit, because by the time I've visited the Intu, Broadmarsh, and that stretch in between, I usually grab a bite to eat in that vicinity. And this is not good. Mea culpa. One of my new year's resolutions is to try new places and appreciate and patronise more independents. Enter Cock & Hoop. This is an interesting one, as the pub is a part of Lace Market Hotel. This boutique hotel accommodates an acclaimed restaurant and another bar, which look very good to hang out in (I managed to take a quick peek post meal).
Cock & Hoop has an unassuming exterior. You could easily walk past it, thinking it's "just another pub." Boy would you be wrong.
We were greeted by the warm smiles of front of house and bartender Sam Harland, who showed us to our seats next to a gorgeous roaring fire. I love indoor fires, which I consider to be innately romantic. As I sank into my comfortable seat, I glanced around the pub, which consists of cosy lighting, dark woods, and candlelight. It's a rustically elegant space to be, and coming in from the cold made me appreciate this homely environ all the more.
The menu cleverly straddles being compact whilst offering a diverse range of dishes. This is a rare occurrence and one which the pub should be proud of. You could have a visiting group including an Englishman, Scotsman and Irishman and they'd still all find something to enjoy from this menu. Sous chef Terry Hayfield ducked out to chat about the pub's food offerings and said:
The menu evolves through the year. Both the owner and head chef Ben Chaplin, and myself are keen on using local, seasonal and organic produce.
We sampled a range of dishes as follows-
Starters
Pork rillettes, pork crackling: Gentle crumb does a fantastic job of holding perfectly seasoned meaty morsels.
Welsh rarebit, aioli: smooth ale, cheese and punchy mustard makes a daring, delectable combination. I could snack on these all day and not get bored. One of my favourite dishes from this menu – heck 2016.
Thai fishcakes, Asian salad, lime and peanut dressing: Subtle chilli kick dances on the palate. Dense texture of fishcakes boast a good bite. Dressing sublime, would also make a great dipping sauce with Thai crackers. Charred lime fragrant and aesthetically pleasing.
Soup of the day, French pumpkin with chorizo: Gloriously golden, hug in a bowl. The granddaddy of soups, luxuriously smooth, salty with a hint of sweetness rendering it perfect. When the world seems an odd, heart-breaking place to be (perpetuated by the Brexit and Trump vote), this soup will restore your faith in humans one bowl at a time.
Mains
Pea and mint risotto, poached egg, parmesan: Generous portion, sauce creamy yet magically not cloying. Sprinkling of fresh fennel seeds inspired and lifts the dish, taking it to the next level. A grown-up dish that knows how to have fun.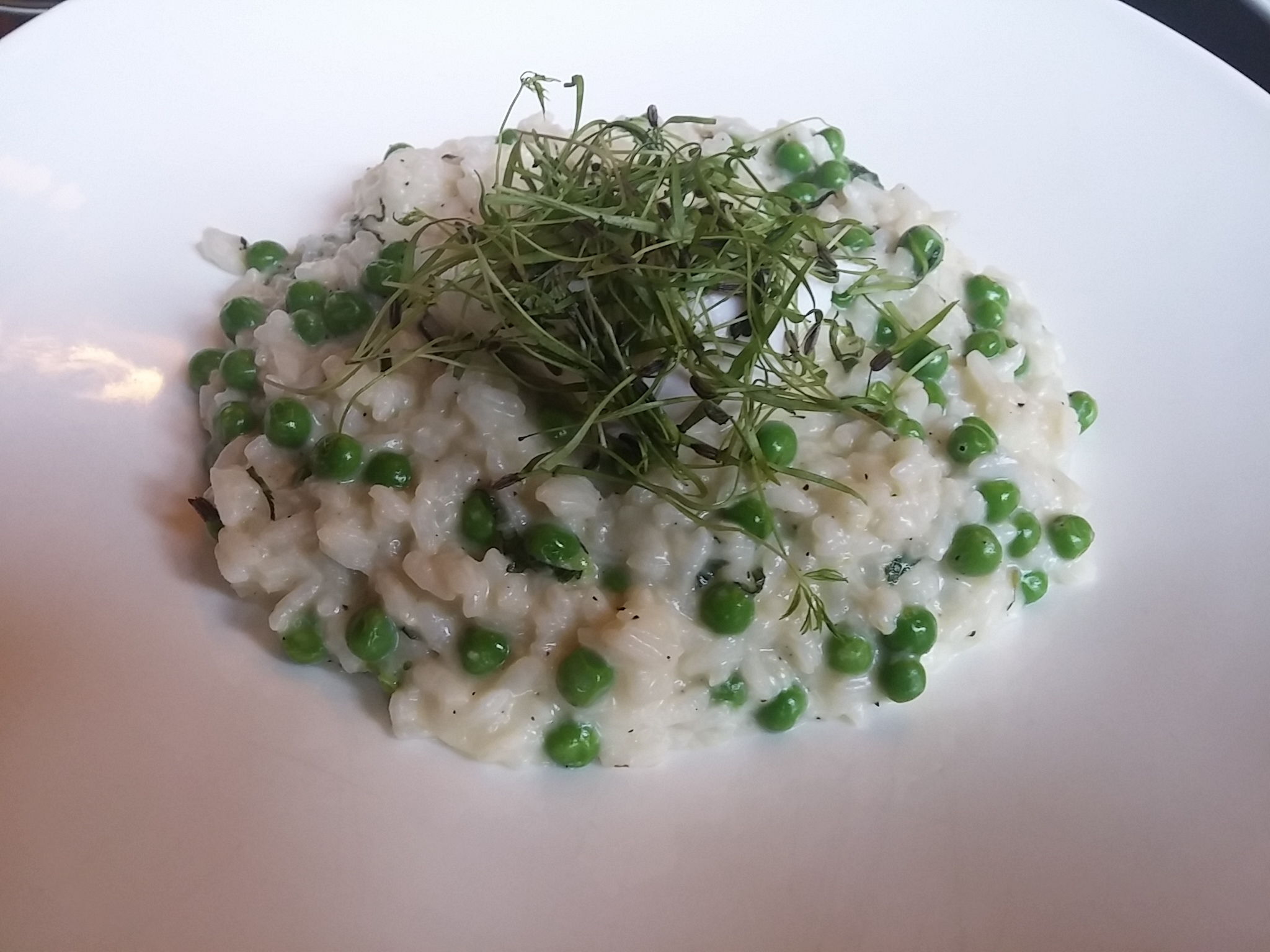 Pie of the day, haggis, neeps and tatties in home-made, deep-filled puff pastry pie: Wonderfully short and crumbly pastry. I would have preferred a lighter colour on the pastry, but this is a personal thing. Accompanying jus very good indeed, with deep notes of good red wine and beef stock.
We didn't get a chance to try dessert, a blasphemy which I'm hoping to rectify this year. A shout out to chef Terry, whose passion for food shines through when he speaks about the menu and carefully sourced ingredients. The pub has an excellent selection of ales and host frequent beer based evening events, including brewery tours. Cock & Hoop is one place to watch, and has leapfrogged onto my 'must visit places' whenever I'm in Nottingham. Cock & Hoop – see you very soon.
Rating: (1: Hate: I'd rather eat my shoe – 10: Love: I'd sell my kidney for a meal here)
Food: 9
Value for money: 9.5
Ambience: 9.5
Service: 10
Rate or Slate? Rate.
Food and drink courtesy of Cock & Hoop.
#InANutshell
Pub name: Cock & Hoop
Founder: Ben Chaplin
Open since: October 2015
Address: 25 High Pavement, NG1 1HE
Closest tram stop: Lace Market
Covers: circa 60 (19 tables can seat 3-4)
Opening times: 12:00pm – 10:00pm daily
Website: www.lacemarkethotel.co.uk
Call: 0115 948 4414
Facebook: www.facebook.com/thelacemarkethotel
Instagram: www.instagram.com/lacemarkethotel
Twitter: www.twitter.com/lacemarkethotel
Whilst in the area check out: Nottingham Contemporary (art centre and gallery)