Hi all, I hope you're enjoying the positively autumnal weather. As the nights draw in, I find myself craving hearty wholesome fayre. Curries usually feature in my top ten dishes of all time, but the rankings are higher for thick, creamy curries during the cooler months.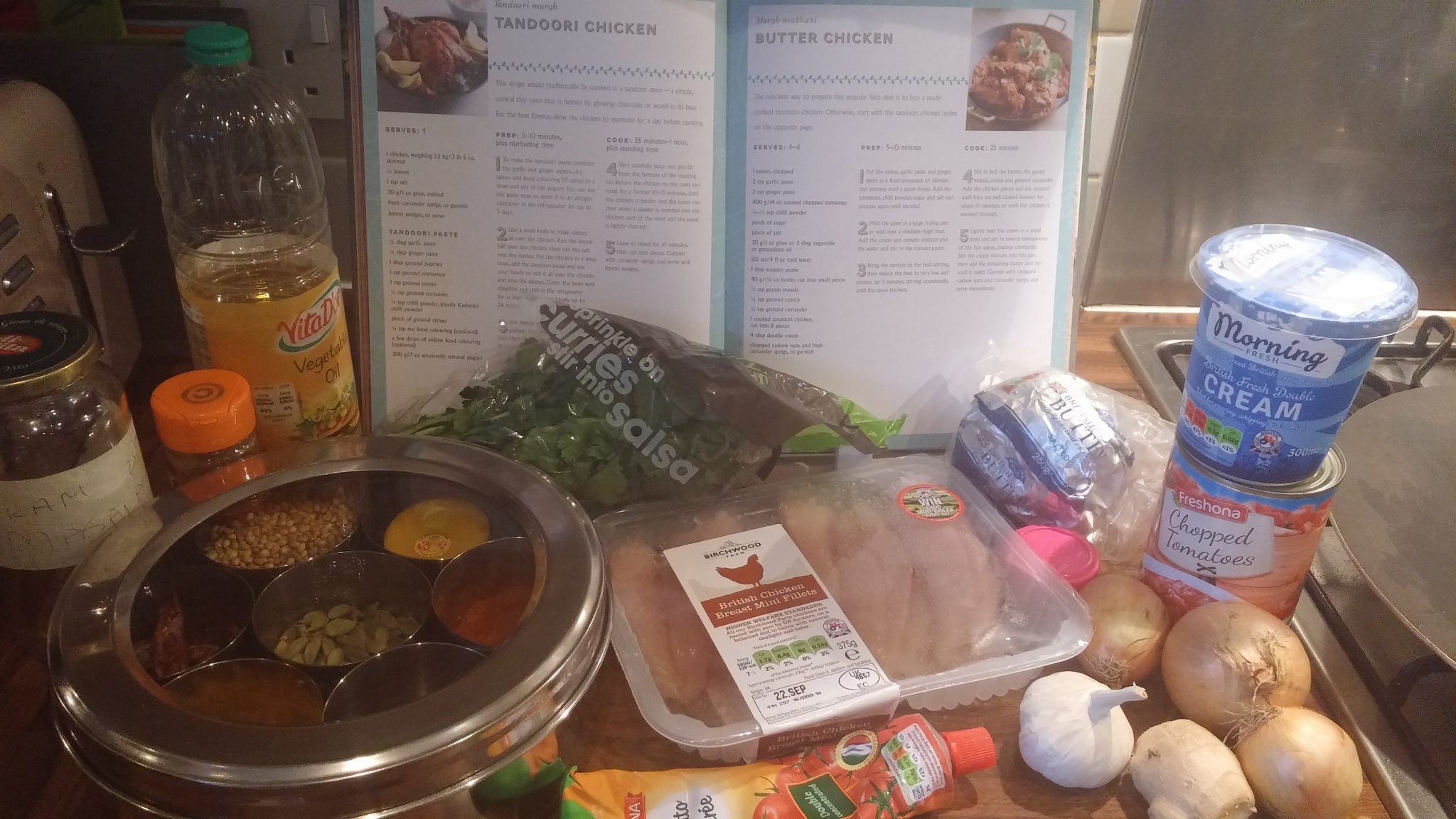 A book which I'm finding chock-full of simple, delicious recipes (every single one tried so far has been gorgeous and authentic) is The Indian Kitchen by Sunil Vijayakar. I try to eat healthy whenever I can and find this following rich and a real treat. This is a cheat's version, where the recipe calls for 1 cooked tandoori chicken. Although the book does contain overleaf, a full recipe how to cook a tandoori chicken, just in case you were feeling adventurous. I used plain chicken breast, as I wanted to taste the unadulterated spices. Next time I'll use a tandoori chicken and compare the taste. Here is the highly recommended recipe for murgh makhani, otherwise known as butter chicken. Enjoy.
Serves 4-6
Prep 5-10 minutes
Cooks 25 minutes
Ingredients
1 onion, chopped
2 tsp garlic paste
2 tsp ginger paste
400g canned chopped tomatoes
½ tsp chilli powder
Pinch of sugar
Pinch of salt
30g ghee or 2tbsp vegetable / groundnut oil
125ml cold water
1 tbsp tomato purée
40g butter, small dice
½ tsp garam masala
½ ground cumin
½ tsp ground coriander
1 cooked tandoori chicken, cut into 8 pieces (I used 500g filled chicken breast meat which was perfect)
4 tbsp double cream
Chopped cashew nuts, fresh coriander sprigs to garnish
Method
Put the onion, garlic paste and ginger paste into a food processor and blitz until a paste forms. Add tomatoes, chilli powder, sugar, salt and blitz again till all combined.
Melt ghee in a large frying pan or wok over a medium-high heat. Add the onion and tomato mixture, water, and stir in the tomato purée.
Bring mixture to the boil, stirring. Reduce heat to very low and simmer for 5 minutes. Stir occasionally until sauce thickens.
Stir in half the butter, garam masala, cumin and ground coriander. Add chicken pieces and stir until they're all coated. Simmer for around 10 minutes, or until chicken is warmed through.
Lightly beat the cream in a small bowl and stir in several tablespoons of the hot sauce, beating constantly. Stir in the cream mixture into the pan, then add the remaining butter and stir until it melts. Garnish with chopped cashew nuts and coriander sprigs. I use a liberal handful, as I love coriander. Serve the curry with either rice, chapattis, naan, or whatever floats your boat.
This is a really simple recipe to follow. Here is the deliciously aromatic curry being cooked in a pot. I was liberal with garlic and ginger too (I like my curries garlicky and gingery).
I dished up with chapattis, sliced cucumbers and a dollop of yogurt. I loved making this simple curry, and eating it too. It wasn't too spicy, as the butter and cream combo tempered the warming spices. I'd recommend this curry for those with low-chilli threshold, as you can dictate how spicy this curry can be. All you need to do is decrease the amount of chilli powder and garam masala you use, as these spices add heat to the curry.
Do you dig butter chicken? What's your go-to curry? I'd love to know!
RAxx